Focus on building accessible senior fitness benefits into your Medicare Advantage plan to increase customer engagement and retention. FitOn Health's CEO, Ed Buckley, explains.
Over 25% of adults over 65 are entirely inactive, which increases to over 35% by the age of 75. This sedentary lifestyle means growing numbers of people age 65+ have a higher risk of being diagnosed with age-related mental disorders and physical diseases.
Senior fitness benefits that truly support senior lifestyles should be a crucial concern for Medicare Advantage (MA) plan providers wishing to retain and grow their clientele. By introducing accessible senior fitness programs, MA plan providers can help slash mortality rates and the risk of depression and dementia by 20% to 30%. However, not all solutions in place today address the unique challenges faced by users with specific needs, such as chronic conditions.
As MA plan providers, being part of your customers' health journey and helping prevent diseases related to a sedentary lifestyle through accessible senior exercise is the missing link in your current health plan.
What current MA plans are missing in their fitness programs
Encouraging an active lifestyle is more challenging than just providing a gym membership in your MA plan and hoping for the best. There needs to be better access to senior-focused, user-friendly fitness programs via MA plan supplemental benefits.
Without these programs as a supplemental benefit, seniors face access challenges, including high exercise program costs and vendor lock-in. This results in many of our elderly remaining inactive with growing age-related mental and physical health conditions, increasing medication bills, and a declining quality of life.
To provide the best fitness experience for your senior community, it's important to understand their pain points and challenges.
Why are seniors not exercising?
Fitness as a supplemental benefit has had slow uptake despite over 90% of MA plans offering it. This is because the fitness options available do not meet the needs and requirements of senior customers. Below are a few things to consider when building senior fitness and health benefits.
6 Factors to consider when creating senior fitness benefits
Complexity: Seniors are bombarded with advertising for a range of fitness programs. The amount of information and choice can be overwhelming, which makes choosing the right fitness program challenging. Many give up at the first hurdle because they can't find something suitable in a sea of too many choices.
Time: Many adults over 65 have increased responsibilities. Between work and family care, it's easy for life to get in the way and put fitness and health on the back burner. Finding time to exercise or go to the gym is an ongoing challenge.
Accessibility: There is a lack of senior-focused fitness programs across the US. Gyms that cater specifically to an aging population are few and far between, especially in the more rural areas. Not only do senior-focused gyms and fitness programs need specialized equipment, but they need to be fully accessible and have trained staff.
Awareness: Not all seniors are aware of the benefits of exercise for their age group and the availability of senior-focused fitness programs. They may also be unaware that there are specific programs focused on areas they might want to improve, such as balance, low-impact, or disability-friendly options.
Motivation:

We all know how hard it is to gather the motivation to hit the gym, especially when you don't have a community to help you reach your goals. Working out with friends and community, or even with a more experienced exercise partner in person or virtually, can improve an individual's chance of sticking to the program by

up to 49%

.

Costs: Gym and fitness program memberships can be expensive and, with many seniors on a fixed income, out of reach for many. Add to this the complexity of choosing the right gym, virtual fitness provider, or workout group. Is it a surprise that so many senior citizens do not manage to maintain a regular exercise routine? Providers need to find cost-effective ways to provide fitness solutions that work for seniors in an easily accessible way.
How can MA plan providers contribute to healthier senior citizens?
Medicare Advantage plan providers need to offer members personalized, flexible, and easily accessible senior-focused fitness programs in their plan. With their unique needs in mind, the program should be easy for seniors to use anytime, anywhere, and at a minimal cost. The solution must provide both in-person and digital fitness solutions for seniors in both group and individual settings, with the ability to switch from vendor to vendor.
That's a lot to shoehorn into an MA plan supplemental benefit.
However, with a 15% increase in seniors switching MA plans in 2023, it's time for MA plan providers to enact a fundamental transformation in how they do business. The real question is: can you afford not to add supplemental benefits that can - if done with the right partner - increase your customer retention?
With diverse senior benefits that address customers' pain points, MA plan providers can shift the conversation from retention to enablement, driving a healthier senior community. You can also play a critical role in driving a unique and beneficial member experience that drives higher overall plan uptake.
Empowering a culture of healthier, happier seniors is as good for you as the provider and for your customers.
Chat with us here at FitOn, and let our fitness plan experts help you build your senior fitness community and steer that essential paradigm shift.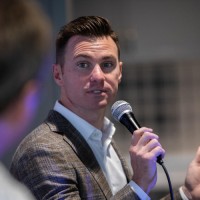 Ed Buckley
Ed Buckley, III, Ph.D., is the CEO of FitOn Health, a population health platform offering the largest variety of digital content and fitness experiences for employees and members. Ed holds a Ph.D. in Digital Health Behavior, and a Master's of Public Health, from the University of Florida. He is Chairman of Scholar Education, on the board of FitOn, and is the co-founder and Vice-President of the Board of Governors for Balance180, a non-profit that encourages children with disabilities to be physically active.